Home
Product Info.
Download Demo
Order Now!
Questions?
Resellers

Desktop Server 2000 allows your PC to become a "REAL" Email server!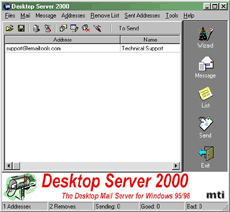 Features
The easiest to use bulk email software on the net.
Send to 15 domains at once
No outgoing mail server is needed
Fast rate of sending
EXTREMELY simple setup
Setup wizard to help with the setup (easy though it is).
Mailing wizard to help you handle the send.
Uses fewer net resources than normal mailer programs.
Imports and exports addresses from standard text files.
Easy to use toolbar.
Automatically removes duplicates
Automatically removes domains such as .mil or .gov
Automatically removes addresses with "abuse",etc.
No additional software required. (other than your net connection)
Name your own email server.
Runs on any online service with Internet capability
Totally windows 95, 98, 2000, and NT compatible.
New Features added in 2000 Version
New database system for managing addresses. List management has never been easier!
Easier address entry! No more entering addresses one at a time.
Personalization of email. You can now personalize each email by dynamically adding the first name, full name, or email address of the recipient into each message.
Easy to read reports on how well your mailing is sending.
More accurate mailings. You will know how exactly how many addresses were sent, how many failed, etc.
Simpler user interface. This includes accurate progress bars, flat toolbars, improved mailing wizard, etc.
Manual access to your mailing lists.
Fast and reliable.
Compatible with various MTI extractors.
Automatically exclude domains and top-level domains.
Run on your windows desktop to control your mailings.
You can attach a file or image to your email with ease.